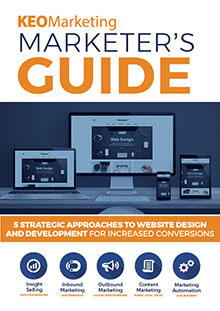 2019 has brought with it a host of new website design tips and ideas.  However, website designs tend to be similar to fashion trends; they come and they go. Sometimes the designs are dictated by necessity such as the need to address mobile devices, while other times the designs are created by industry needs or web visitor response.
But website design is more than making the site look attractive.  What is important to remember is that a company's website is a tool. To help you understand what is important, KEO Marketing has published a new marketer's guide, "5 Strategic Approaches to Website Design and Development for Increased Conversions."
This marketing guide examines the flip-side of website design. It examines the company experience, how the website helps the company achieve its goals. Company-effectiveness requires more than just a pretty site design and user-friendly interaction. As a tool, the website must deliver incremental and quantifiable results that help the company reach its targeted goals.  So while a lot has been written about "user-centered design," this guide provides tools and techniques for "company-centered design".
In this guide you will learn how to effectively build business with tools such as:
Directing the web visitor toward an objective.
How to design sales funnels into your website.
How to tell your brand's story effectively.
How to design for clarity and engagement.
The importance of designing the site for mobile users.