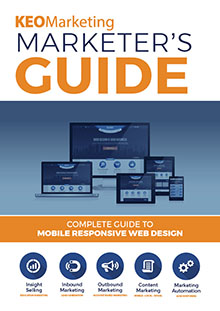 Learn Critical Essentials of Responsive Web Design
The popularity of smartphones and other mobile devices is exploding with overwhelming speed.
For businesses, that means the ability to provide online content to a mobile audience is essential. However, many websites can't be viewed or used in an efficient way when accessed from a mobile device. This can be frustrating for those visitors, who will likely quickly give up and take their business elsewhere.
At KEO Marketing, we realize it's important for B2B marketers to know how to best share their content with a mobile audience. To help marketers learn about some of the most critical elements of mobile-friendly web content, we created a Marketer's Guide entitled, "Complete Guide to Mobile Responsive Web Design."
In this new guide, you will learn:
What the surge in mobile usage means for your marketing strategy
How to plan and implement a responsive web design approach
Why you should avoid slow loading times at all costs
Where marketers frequently make mistakes with mobile content and mobile web design