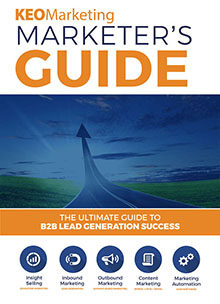 Download KEO Marketing's comprehensive roadmap to increasing the volume and quality of your leads
Increasingly, business-to-business (B2B) marketing requires strategic thinking, digital savvy and a solid understanding of the buyer's journey. The ability to consistently generate leads and connect with buyers is essential for marketers of all stripes.
In The Ultimate Guide to B2B Lead Generation Success, KEO Marketing shows you how to:
Disrupt your buyers' paradigm by revealing that they have a unique business problem that your organization can solve
Engage your ideal client or customer through tactical inbound marketing campaigns
Create educational content that enables buyer due diligence and positions you as a thought leader
Deploy a mobile, local, and social strategy that connects with buyers wherever they are and on every device they use
Harness the power of marketing automation to nurture leads throughout an increasingly buyer-led marketing cycle
All of these insights come from the B2B Marketing Success Formula, a strategic methodology that KEO Marketing uses to help clients generate a larger volume of qualified leads. You will learn from multiple examples of the Success Formula in action, discovering how numerous B2B organizations combine content marketing tactics with tried-and-true lead generation principles to increase sales.
Now is the time to transform your B2B marketing efforts and generate more leads. Download The Ultimate Guide to B2B Lead Generation Success today!