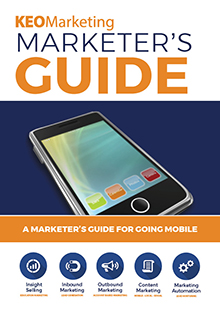 Make Your Marketing Strategy Mobile-Friendly
In today's mobile world, marketers must ensure their messaging can be accessed and read by people on the go. This means evaluating each communication method and making sure it is optimized for mobile, offering readers the best possible experience no matter what device they may be using.
In fact, according to a 2013 report from Walker Sands, 28% of all web traffic comes from a mobile device and that number is increasing rapidly.
To help you start or better focus your mobile strategy, KEO Marketing has compiled a Marketer's Guide entitled "A Marketer's Guide for Going Mobile."
In this new guide, you will learn:
Tips for incorporating mobile-friendly tactics across all channels, including search, email and social
Why responsive design should be your ultimate goal for Web design
How to get started and identify your priorities
What you need to know about Google's new algorithm and how it will affect your mobile tactics