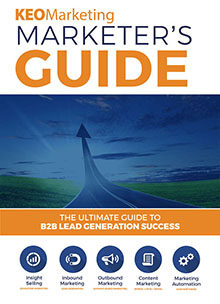 Marketing is changing at an ever-faster rate. This guide was developed to help you stay ahead of the pack.
In The Ultimate Guide to B2B Lead Generation Success (Updated for 2021), KEO Marketing shows you how to:
Overcome buyer objections by positioning your company as a trusted solution to the problems your customers face
Create thought leadership content that facilitates awareness, evaluation and ultimately conversion
Improve ongoing customer engagement with inbound marketing
Deploy a mobile, local, and social strategy to connect with buyers anywhere, anytime, on any device
Harness the power of marketing automation to nurture leads at every stage of the buying cycle
Be inspired to turbocharge your marketing with this compilation of real-world business examples using KEO Marketing's Lead Generation Success Formula to generate more leads that convert.