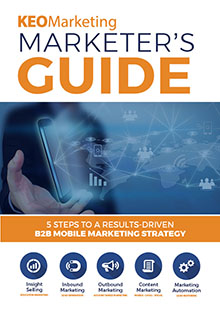 Download KEO Marketing's comprehensive framework for building a successful mobile marketing strategy
As more business-to-business (B2B) buyers use mobile devices to perform due diligence on products and services, a mobile marketing strategy isn't just a "nice-to-have" anymore. It's critical to your success.
In 5 Steps to a Results-Driven B2B Mobile Marketing Strategy, KEO Marketing reveals how marketers and business leaders can:
Identify specific goals for mobile marketing
Connect those goals to tactical execution
Boost engagement and web traffic among mobile audiences
Optimize content for mobile across every channel
Use analytics to measure the success of their mobile strategy
The guide is also packed with real-world examples of companies that combine technical proficiency, editorial precision, and tactical savvy to reach B2B buyers using mobile devices to research solutions.
The time to get serious about mobile is now.
Your buyers already use mobile devices to search for valuable content that helps guide future purchase decisions. They're also using mobile to engage with brands like yours on social networks and blogs. An effective mobile marketing strategy is often the key difference between whether your company is part of the conversation when buyers get closer to making a purchase. If your brand isn't visible on mobile or your content isn't widely available to mobile users, it will be difficult to get your message to the people who need to hear it.
This resource can help you change that. Using KEO Marketing's five-step guide as your roadmap, you'll start reaching buyers everywhere they are, on any device they happen to be using.
Take control of mobile marketing and start generating more leads. Download 5 Steps to a Results-Driven B2B Mobile Marketing Strategy today!