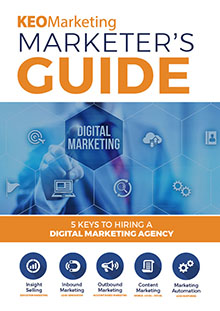 Hiring a digital marketing agency is not an easy task. There are many agencies from which to choose, all offering different services and at different costs.
Finding the right agency is critical to meeting your goals and ensuring your marketing budget is being invested in your company to its maximum benefit. To help you make a good selection, we have created a list of the top five perspectives and experiences to look for when you are considering hiring a digital marketing agency.
Our new guide goes in-depth on the following five keys:
Client Focus
Current Industry Expertise
Relevant Experience
Wide Selection of Services
Satisfied Clients
Invest the time to carefully examine any digital marketing agency you are considering. An effective agency will build a relationship with you in order to help you long term and because of that you will want to make a good choice.
Even if you don't end up choosing KEO Marketing as your digital marketing agency, we hope you make the best hiring decision by focusing on these top five considerations.
To learn more, download KEO Marketing's free Marketer's Guide titled "5 Keys to Hiring a Digital Marketing Agency."