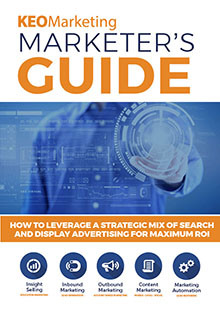 Learn How to Best Blend Search and Display Advertising
A comprehensive online advertising strategy should include a combination of search and display. To streamline the process and get maximum payoff for the time and effort involved, marketers need to create a plan that best incorporates both channels in the most efficient way.
At KEO Marketing, we realize it's important for B2B marketers to know how to best use search and display in a way that allows each to support and complement the other.
To help marketers learn about the most successful approaches to blending search and display, we created a Marketer's Guide entitled, "How to Leverage a Strategic Mix of Search and Display Advertising for Maximum ROI."
In this new guide, you will learn:
tips on the most effective ways to align search and display
ways that search has evolved way beyond simple keywords
why retargeting has had such a major impact
how expanded sources of data have affected display advertising